EDIT MAIN
Proficiency Based Education at RSU #38
Proficiency-based education refers to any system of academic instruction, assessment, grading and reporting that is based on students demonstrating mastery of the knowledge and skills they are expected to learn before they progress to the next lesson, get promoted to the next grade level or receive a diploma. In Maine, academic expectations and "proficiency" definitions for public-school courses, learning experiences, content areas and grade levels are outlined in the Maine Learning Results. The MLR include the Guiding Principles, expectations for cross-disciplinary skills and life-long learning, and eight sets of content-area outcomes which include the Common Core State Outcomes in English language arts and mathematics. The general goal of proficiency-based education is to ensure that students acquire the knowledge and skills that are deemed to be essential to success in school, higher education, careers and adult life.
Maine Department of Education, April 2016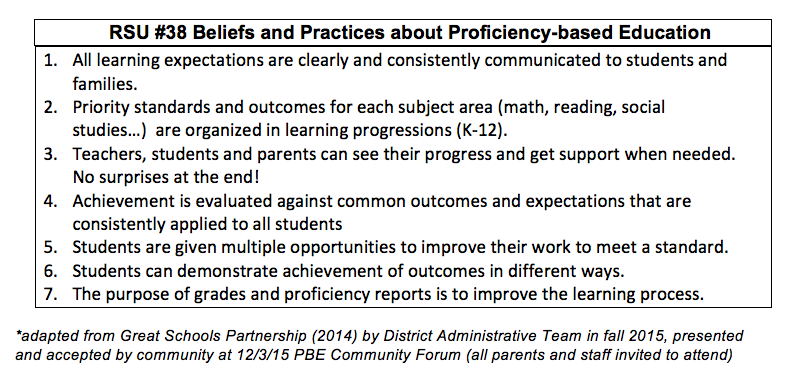 Reporting Proficiency on Priority Standards and Outcomes
Students' growth will be scored on a scale of 1-4 for tracking proficiency.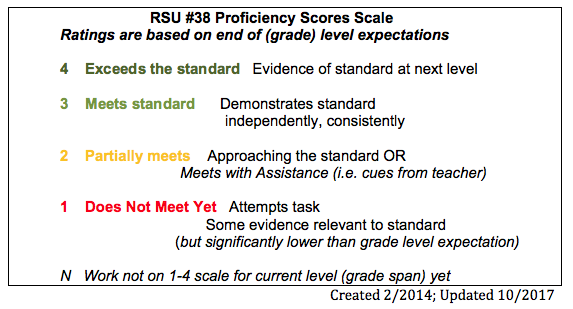 Multiple Opportunities to Meet an Outcome
Students' progress and performance on outcomes that measure standards within each content area will be assessed within each unit of the RSU #38 curriculum. Students will be provided multiple opportunities to meet outcomes. (Teachers will determine when a student is prepared for a "retake" assessment. )
Assessing and Reporting Progress to Parents
Report cards for grades K-5 have been revised to reflect students' progress towards priority standards in each content area.
At K-2, progress towards grade level standards appears right on report cards. During parent conferences teachers also share student work and evidence of growth toward benchmarks for grade level standards.
Sample:
Gr. K Mathematics

Students' progress toward the END OF YEAR targets for their grade level will be entered for each Outcome for a Standard that has been addressed that term. (i.e First term a student might receive a rating of "2" for an Outcome, indicating he partially meets the standard for the end of his grade level. Second term that Outcome might not be addressed in the grade level units. However, when the outcome is reassessed in third term he might earn a "3" indicating he has met the expectations for that outcome of the standard.
Grades 3-12
Students' scores for proficiency are maintained in a separate student information system (JumpRope) for Grades 3-12. Parents will receive print copies of Proficiency Progress Reports several times a year, and also will have access to their student's account through a Parent Portal.
---
JumpRope Parent Portal
Parents in grades 3-9 will be receiving letters from their schools with usernames and passwords to get into the Parent Portal in JumpRope. Here is a video of a student who is explaining what you will see when you log in: Student Jumprope Movie
---
Grade 9 Informational Night for Proficiency Based Reporting
We held an Informational Night for Grade 9 Parents on December 19th and we showed parents how to get into the Jumprope Parent/Student Portal. Here is the powerpoint that was used for the presentation: Proficiency Progress Reports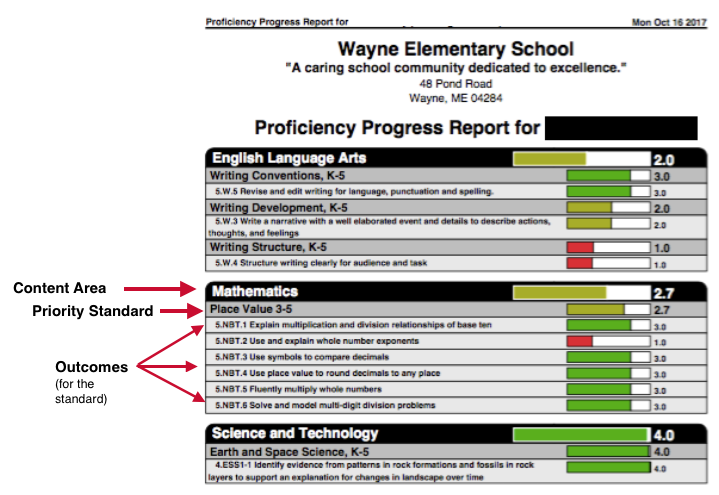 Students need to meet for the overall content area, as well as each priority standard in the content area. Each standard is assessed through multiple outcomes. Through the portal, parents and students can view the specific assessment scores that have contributed to each outcome.
Throughout each school year, and within each grade span (K-5, 6-8, 9-12), students' progress is carefully monitored by teachers, administrators, and specialists. If a student is NOT meeting multiple outcomes for a standard over time, then Response to Intervention RTI in RSU #38 or other services may be offered.
Graduation Requirements
Proficiency-based Diploma Law
A student graduating in 2021 or later, must demonstrate proficiency in the content areas (and in Guiding Principles) of the Maine Learning Results and meet any additional graduation requirements of the local school district.
(Changes approved by Maine Legislature in April 2016)
In June of 2017 the RSU # 38 Board of Education approved a new Graduation Policy IKF that incorporates these requirements:
Students' proficiency in the content areas for gr. 9-12 will be calculated and reported in JumpRope (an electronic gradebook system designed especially for standards-based reporting). All students must Meet Proficiency overall in at least the first four content areas listed to earn a proficiency-based diploma in 2021. (The number of content areas in which proficiency is required then increases each year until all are required.)
The content areas of the Maine Learning Results:
English Language Arts
Mathematics
Science and Technology
Social Studies
Health and Physical Education
Visual and Performing Arts
World Languages
Career and Education Development
Maine's Guiding Principles
Students in the class of 2021 may earn a diploma by meeting both priority outcomes for the Content Areas and The Guiding Principles. The Guiding Principles (for the most part) are a part of the high school's Habits of Work (HOW). A crosswalk on how the Guiding Principles match up with the HOW and courses appears at the end of this document. (Appendix A & B) In addition, students will need to demonstrate purposeful communication in at least one other language.
Credits and Multiple Types of Evidence
A student may demonstrate proficiency by presenting multiple types of evidence, including, but not limited to, teacher-designed or student-designed assessments, portfolios, performance, exhibitions, projects and community service.
In addition, each student must successfully complete a total number of credits. Credits are awarded based on a traditional letter grade system.
Special Education
A student who is a child with a disability may meet graduation requirement and become eligible for a diploma by demonstrating proficiency in state outcomes established in the system of learning results through performance tasks and accommodations that maintain the integrity of the outcomes as specified in the student's individualized education program by the student's IEP team. Students can use accommodations (such as speech to text technology) when a student has an Individualized Education Plan (IEP).
---
PBE at MCHS 8th Grade Parent Night 2/2017
---
PBE Jumprope Maranacook May 2016
---
Here are the notes from our PBE Forum held on January 14, 2016.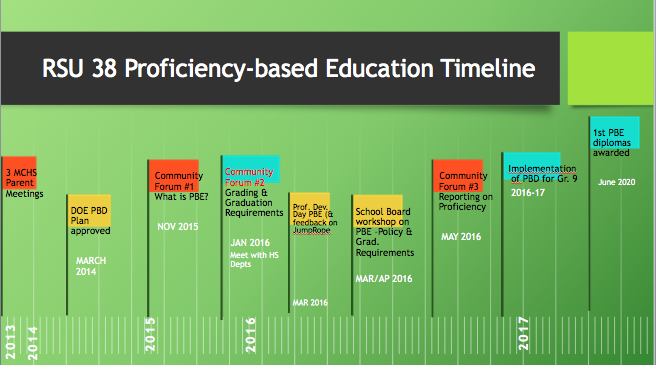 Participants in the Community Forum on January 14th at MCHS discussed changes in graduation requirements as Maranacook implements a proficiency based education system. An experienced Admissions Representative from the University of Maine, Nikolas Ray, answered questions about implications for college preparation and admissions. A third forum will be held in May on Proficiency Reports for 16-17.
Maranacook PBE Community Forum, Jan 14, 2016
NESSC_Collegiate_Endorsement_PRESS_RELEASE
---
Here are the PowerPoint and notes from our PBE Forum held on December 3, 2015.
---
RESOURCES for PROFICIENCY-BASED EDUCATION
Great Schools Partnership.Proficiency-based Learning Simplified: A Great Schools Partnership Model.
Maine Proficiency Education Council (a Committee created by the Legislature to advise on effective implementation of the Proficiency-based Diploma law).
Maine Education Policy Research Institute, University of Southern Maine. (2013). Preliminary Implementation of Maine's Proficiency‐based Diploma Program.
Note: This Report includes a copy of LD 1422 An Act To Prepare Maine People for the Future Economy (often referred to as the Proficiency-based Diploma law- which has been incorporated into Title 20-A) p. 51-53.
For an overview of previous standards-based education laws and the context in which LD 1422 was enacted, see p 3-8.
Maine Revised Statutes Title 20-A …Proficiency-based Diploma Standards
Scruffiny, P. (2008). Seven Reasons for Standards-based Grading. Educational Leadership, 66(2), pp 74-77.